5G is a revolutionary technology which is poised to bring multiple changes in the way devices communicate. We all keep coming across terms like high peak data speeds, ultra-low latency, more reliability, massive network capacity. We also hear terms like NR, Edge computing/Edge Cloud, Massive IoT, & Intelligent Wifi.
There are huge speculations on how 5G will effect the global economy, and its impact on sectors varying from Agriculture to Manufacturing, from Healthcare to gaming. It is important for all Engineering Students to be aware of the above. Definitely 5G will bring in ample opportunities, and first movers will be at advantage.
Topics Covered
Webinar
5G Technology- An Overview
5G is the 5th generation mobile network. It is a new global wireless standard after 1G, 2G, 3G, and 4G networks. 5G enables a new kind of network that is designed to connect virtually everyone and everything together including machines, objects, and devices.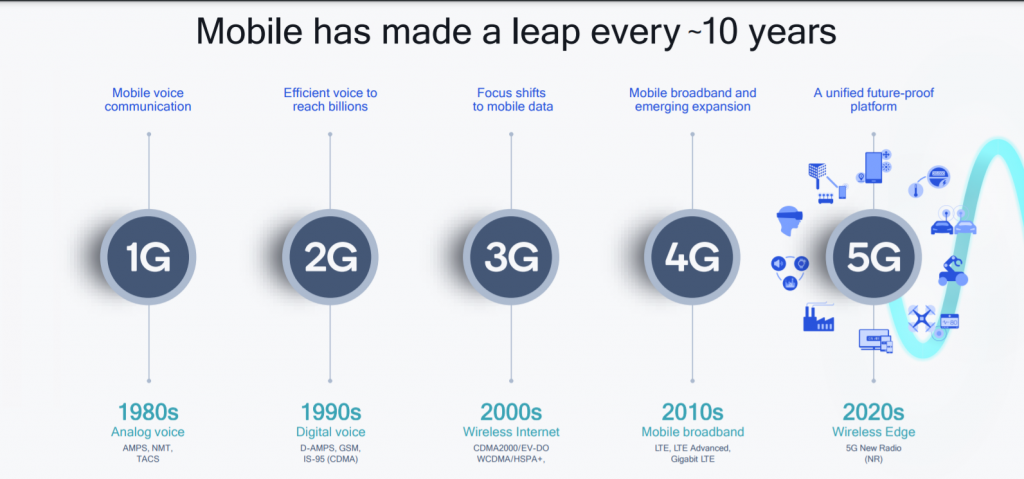 5G wireless technology is meant to deliver higher multi-Gbps peak data speeds, ultra low latency, more reliability, massive network capacity, increased availability, and a more uniform user experience to more users. Higher performance and improved efficiency empower new user experiences and connects new industries.
Video Resources
Check 5G in 101 seconds
Connected world: An evolution in connectivity beyond the 5G revolution
Before we jump to technologies underlying 5G, which make things like low latency possible, let us look into background behind 5G.

Underlying technologies that make up 5G
Five key functional drivers of 5G support certain technological applications. They are:
enhanced mobile broadband (eMBB)
ultra-reliable low latency communication (uRLLC)
security
massive machine-type communications
power efficiency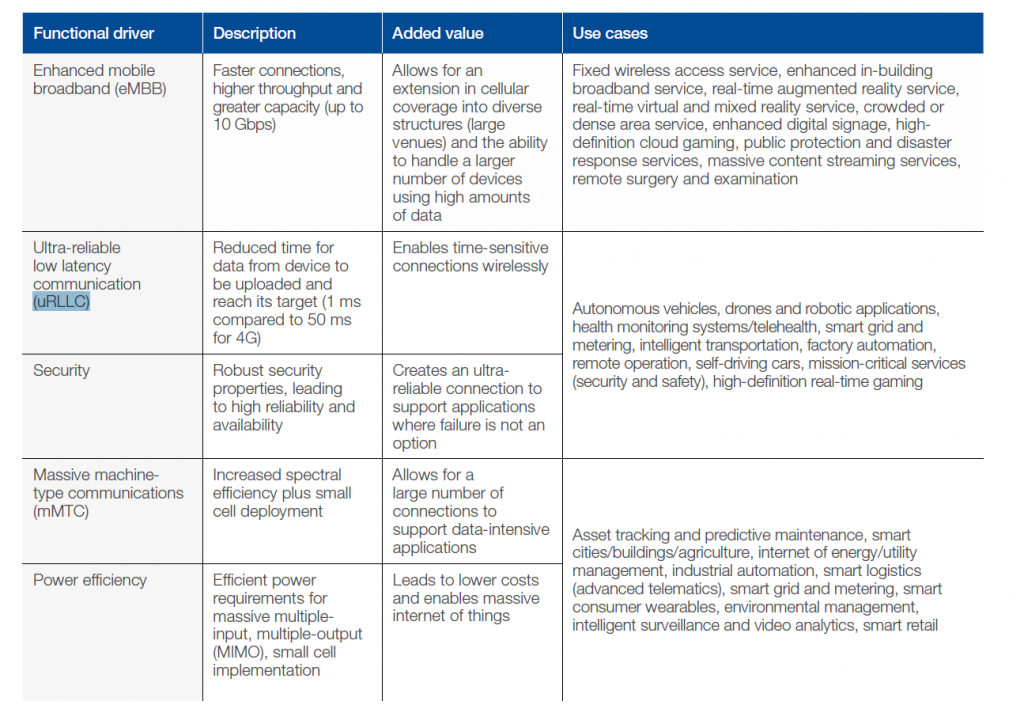 As per the World Economic Forum report The Impact of 5G: Creating New Value across Industries and Society, (93%) of the use cases analysed would be enhanced by ultra-reliable low latency communication and 78% by enhanced mobile broadband. Massive machine-type communications and
security are also important, with each driver contributing to 45% of the use cases analysed.
You may check Resource Materials for few of the above mentioned technologies
It is important to note that 5G could be the ideal technology for certain solutions, but others might be sufficiently served with WiFi, 4G or even earlier generations of networks. McKinsey has published an excellent report Connected world: An evolution in connectivity beyond the 5G revolution which has in-depth analysis of the developments which are running in parallel to 5G
Potential for economic and social value across industry sectors
The positive impact of the Fourth Industrial Revolution and its related emerging technologies will be fully realized through the wide-scale deployment of 5G communication networks in combination with other connectivity solutions. The key functional drivers of 5G will unlock a broad range of opportunities, including the optimization of service delivery, decision-making, and end-user experience. As per World Economic Forum estimate this will result in $13.2 trillion in global economic value by 2035, generating 22.3 million jobs in the 5G global value chain alone.
World Economic Forum has published a White paper The Impact of 5G: Creating New Value across Industries and Society which at length analyzes the impact of 5G.
Industrial advances
5G will contribute to industrial advances in three significant ways: by
1) enabling faster and effective inspections through predictive intelligence; 2) improving workplace and worker safety; and
3) enhancing operational effectiveness.
5G also has the potential to impact industry by managing the carbon footprint and bridging the digital divide, which together apply to 63% of the use cases identified.
Social Impact
5G can deliver social value across 11 key areas that correspond to 11 of the United Nations' 17 Sustainable Development Goals (SDGs). This value derives mainly from contributing to good health and well-being, enhancing
infrastructure, promoting sustainable industrialization and fostering innovation. Other key areas in which social value is created through 5G include contributing to responsible consumption, enabling sustainable cities and communities, and promoting decent work and economic growth.
Industry sectors which will benefit from 5G

Check Intelligently connecting our world in the 5G era an excellent presentation by qualcomm where they have given various Industry sectors which will benefit from 5G.
Few more industries/sectors which will see impact of 5G have been taken up below.
Smart Manufacturing Powered by 5G
The modern factory is already a highly complex environment. Advanced machines and robots are equipped with a wide array of sensors connected to high-powered analytics engines in the cloud that assess performance, manage production schedules, maintain supplies and orchestrate all the activities on the factory floor.

By eliminating the need for wired connectivity, 5G will supplement the high-speed manufacturing environment with a far greater degree of flexibility….
Five ways that 5G will revolutionize manufacturing
Imagine a future where smart robots assemble products from multiple manufacturing lines by physically reconfiguring themselves on the factory floor. Security drones handle tedious tasks ranging from monitoring for intruders to validating employee parking. Autonomous vehicles transport parts not only between buildings, but also across the country. And factory inspections are performed remotely from a thousand miles away.
Areas of 5G research and development
5G New Radio (NR) is the global standard for a unified, more capable 5G wireless air interface. It will deliver significantly faster and more responsive mobile broadband experiences, and extend mobile technology to connect and redefine a multitude of new industries. Read More
Cellular vehicle-to-everything (C-V2X) will serve as the foundation for vehicles to communicate with each other and everything around them—providing 360º non-line-of-sight awareness and a higher level of predictability for enhanced road safety and autonomous driving.
Read More
LTE Advanced Pro (3GPP Release 13+) is expanding LTE to a wide range of new industries and enabling new use cases beyond smartphones, such as automotive and IoT. It is comprised of a rich roadmap of technologies that will be submitted with 5G NR to meet IMT-2020 requirements. Read More…