Shaheen Jahan & Vishal P Pandey
5G Technology- An Overview
5G is the 5th generation mobile network. It is a new global wireless standard after 4G networks. 5G enables a new kind of network that is designed to connect virtually everyone and everything together including machines, objects, and devices. 5G wireless technology is meant to deliver higher multi-Gbps peak data speeds, ultra low latency, more reliability, massive network capacity, increased availability, and a more uniform user experience to more users. Higher performance and improved efficiency empower new user experiences and connects new industries.
Broadly speaking, 5G is used across three main types of connected services, including enhanced mobile broadband, mission-critical communications, and the massive IoT. A defining capability of 5G is that it is designed for forward compatibility—the ability to flexibly support future services that are unknown today.

Qualcomm- Everything you need to know about 5G
5G runs on the same radio frequencies that are currently being used for your smartphone, on Wi-Fi networks and in satellite communications, but it enables technology to go a lot further. 5G is really about connecting things everywhere – reliably, without lag – so people can measure, understand and manage things in real time. 5G is more than just an upgrade for faster data networks. 5G is a major change in how the world is connected. From the outset, 5G was designed for massive, intelligent connectivity of everything at scale.
The most impactful feature of 5G is its low latency. Latency refers to the delay between an instruction being given and executed. 4G has a latency of about 50ms; 5G will reduce this to less than 5ms in three years and less than 1ms in four years. For comparison, the human brain takes about 10ms to process an image.

Word Economic Forum- What you need to know about 5G
The 5G Future: The Intelligent Wireless Edge
Devices like smartphones, smart speakers, and responsive sensors that monitor a patient's health are already "smart," with varying models of on-device processing and data sharing via the Internet and cloudbased resources. Today, on-device AI can make local decisions, while these devices are also connected to the cloud for expanded capabilities. As the number of connected devices continues to grow, existing LTE networks and central clouds will need to keep up as well.
Inherently, centralized clouds are often far away from devices, and this translates to higher latency—the amount of time needed for data to get from one point in the network to another. This is especially apparent when the network is congested.
In a world where virtually everything is connected, on-device processing will play a bigger role than ever. To overcome the intrinsic limitations of the devices, a new, enhanced system architecture emerges — one that brings data processing capabilities closer to devices. This is the world of the intelligent wireless edge, where on-device processing is augmented by edge cloud computing, and connected by ultra-fast, low-latency 5G.

5G was envisioned to be the unifying connectivity fabric that can connect virtually everything and everyone, and it is being designed to support and expand the IoT ecosystem in previously unrealized ways. This also neatly aligns with the future vision of AI- to become fully distributed with lifelong on-device learning, bringing benefits like even better personalization and privacy protection. Not only is 5G capable of delivering extreme throughput and millisecond latency, it can also flexibly scale to efficiently support a large number of lower-performance IoT devices.
Underlying technologies that make up 5G
Five key functional drivers of 5G support certain technological applications. They are:
enhanced mobile broadband (eMBB)
ultra-reliable low latency communication (uRLLC)
security
massive machine-type communications
power efficiency
Potential for economic and social value through 5G
In World Economic Forum whitepaper "The Impact of 5G: Creating New Value across Industries and Society", prepared in collaboartion with PwC, the economic and social value through 5G has been taken up in depth and reveals few astounding facts.
As per the report the Social impact 5G can deliver social value across 11 key areas in the context of the United Nations (UN) Sustainable Development Goals (SDGs) , mainly through contributing to good health and well-being, in addition to enhancing infrastructure, promoting sustainable industrialization and fostering innovation. Other key areas in which social value can be created through 5G include contributing to responsible consumption, enabling sustainable cities and communities, and promoting decent work and economic growth. 5G has the ability to contribute significantly to societal well-being through reduced potential injuries and fatalities.
The UN SDGs have been used as a framework to classify societal impact across several areas.10 The results of this analysis by industry are summarized in the following table: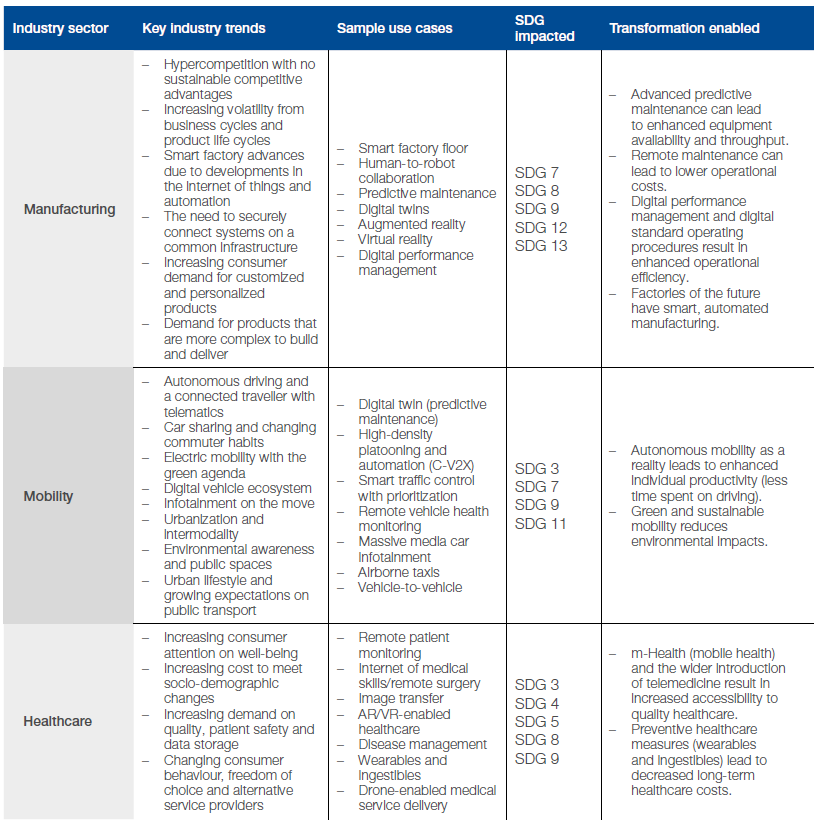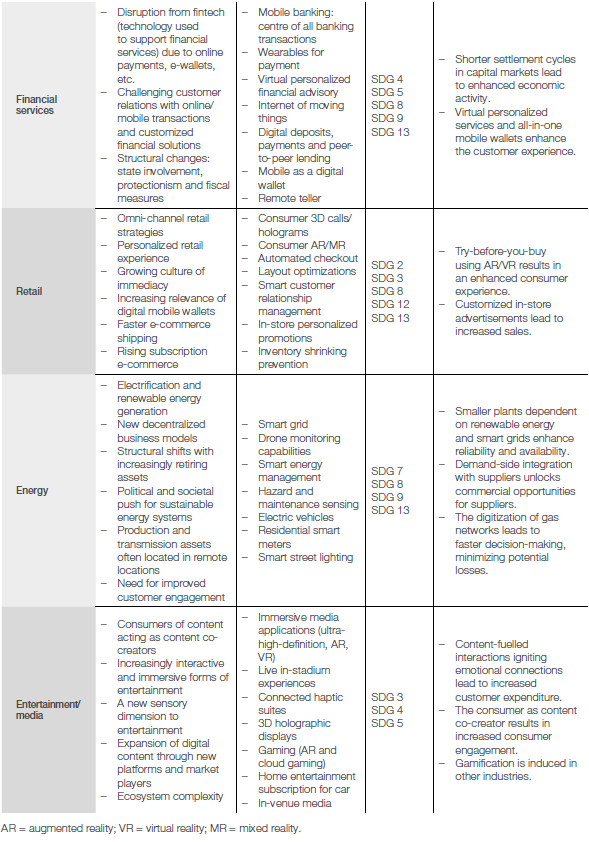 In addition to the direct economic impacts, indirect socio-economic value is also created in four environments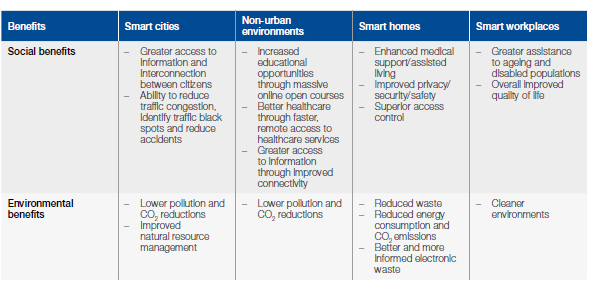 Challenges of Healthcare Sector
The healthcare industry is facing many changes that pose new challenges to medical organizations both big and small. In particular, the fast-evolving government regulations, technological innovations, and patient expectations create a new environment in which running a medical practice isn't just about treating patients anymore.
Looking into 2021 and beyond, here are seven major challenges faced by the healthcare industry and how to stay ahead:
Expanding coverage- The expanding coverage offered by India's healthcare sector is not enough for the masses. It is underfinanced and often short-staffed. The doctor to patient ratio is at a mind-boggling 1:1700. Though again this data is skewered and doesn't portray the full picture. Majority of doctors reside in metro and urban areas. There is a severe and marked shortage of doctors and specialists in rural health centres. With majority of Indians still living in rural India, this figure indicates a serious challenge.
Digital Health Information System- There needs to be an effective mechanism for patient data sharing in the healthcare organization, and even perhaps across different healthcare providers. Having patient details like symptoms, test reports, etc. on cloud or central server will make the like extremely convenient for all. Not only will it deliver a better patient experience (who wants to tell their story from the beginning every single time?) but also help avoid fatal mishaps such as drug interactions and repeat of procedures or tests.
Virtual Consultation/ Telehealth- with the Covid-19 pandemic encouraging minimal in-person human interaction, consumer adoption of telehealth grew from 11% during 2019 to 46% in 2020. While the future implications of covid-19 are still uncertain, it seems that telehealth adoption will continue to grow. In fact with education shifting to zoom and Microsoft teams and automobiles opting for virtual showrooms, there is no reason why we can't have more virtual doctor consultations. Bundled along with a versatile Digital Information System- where all patient history and test results are easily assessable- this is not only possible but extremely convenient too.
Aging Population- There is a lurking challenge to cater to huge percentage of aging population. We are witnessing major impact of Covid in countries like Italy due to demography. We need to be prepared in India which though demographically young, still has have sizable old age citizens who will need different medical requirements and care. This is an area which is witnessing considerable technology adoption.
Patient Experience- In his famous book The Paradox of Choice – Why More Is Less psychologist Barry Schwartz has brought out the dilemma of having too many choices and how that creates a negative impact on logical decision making. Though the points are relevant, the fact stands that with retail malls, shopping complexes, and huge marketing activities the normal consumer gets plethora of choices. The consumer may not finally benefit hugely, but definitely feels like a king with multiple options. Ecommerce has further added to the options available at hand even for an average person.
However when we come to healthcare, often the patient has limited options and further the patient experience is one factor which surprisingly most of the healthcare units fail to even take into consideration. This needs to change urgently and already many bigger chains are taking up the patient experience seriously. Others need to follow, and perhaps this is an area where technology can come in extremely handy.
Price Transparency- lack of standardization when it comes to pricing is again a major issue. Most of the health care's lack transparency in pricing. Of late many healthcare systems are opting to make their service prices easily accessible. Doing so reduces patient confusion and surprise billing issues. Still standardization of prices is definitely an important requirement and cannot be neglected in the long run.
Invoicing and Payment Processing- To meet patient expectations and improve the user experience, we need to ensure billing statements are patient-friendly and transparent. We should offer paperless statements and a variety of payment options (e.g., e-check, credit card, etc.) via an online patient portal and utilize the latest payment technologies, such as mobile and text-to-pay. New features like text or email reminders help effectively communicate with patients and encourage them to pay their financial obligations.
Role 5G can play in Healthcare
The COVID-19 pandemic has given us a glimpse into how 5G networks can help the healthcare industry better deliver information and care.
Emergency handling- Real-time exchange of data can be a key determinant in emergency situations, such as ambulance remote diagnosis and real-time health data transfer, as well as in conditions where teleconsultation is the only option (i.e. remote areas with limited health resources).
Outpatient management- 5G is enhancing the seamless provision of care services outside the hospital. In comparison with other connectivity services, 5G enables faster and richer data sharing, as well as more complex data processing at the edge of the network, at the point of care. This enables VR and wearable sensors to be used for home-based rehabilitation, for example, as well as video consultation and real-time transfer of images, videos, and healthcare-related information from clinical-grade devices, giving patients faster and more accurate remote diagnosis and advice.
Remote and extended practice- Researchers at the Technical University of Munich are testing 5G technology by equipping a test operating theatre with prototypes of 5G-capable access points and terminals. Imagine undergoing surgery in London with a surgeon operating real time from New York. The speed and data capacity of 5G can enable remote care and treatment, combining tools and devices (e.g., robotics, IoMT) that effectively support smooth communication and procedures performed in real time, regardless of the location.
Site connectivity and management- The value of clinical collaboration and communication within and outside the healthcare ecosystem has become essential to tackle the pandemic. 5G can be a game changer for healthcare enterprise services that need to support clinical collaboration and communications that are richer in content and need a reliable infrastructure for mission-critical applications and devices.
Training and education- Skills building in the medical arena can potentially be enhanced through 5G by providing greater access to simulation activities by including VR and haptics in the education process and providing realistic, real-time remote tuition at the highest resolution.
Facilitating medical innovation-Beyond enhancing today's medical processes, 5G can support the development of new technologies for telemedicine and the entire healthcare industry.

Remote care- Remote patient care is solving many problems in healthcare. Relying on the convenience that the IoT provides in transferring data between devices, remote care offers convenience while maintaining quality care for patients. Remote patient monitoring and telehealth are made possible through video conferencing technology, along with big data and wearable technology. Physicians can monitor and diagnose patients miles away — conversing with them about symptoms and even being able to see medical concerns to make an informed decision on medication or operations without even being in the room or state for that matter.
Wearable devices- Wearable devices and the IoT allow for remote patient monitoring, meaning that a physician can receive data from a patient's watch to determine their heart rate, caloric intake, and other things that can prevent major health issues. Additionally, those with chronic illness can be monitored at their homes to keep their freedom and spend more time with their loved ones, only coming to a point of care when necessary. This will benefit physicians as well, as they can counsel patients without anyone having to travel.
3D Printing- 3D printing is impacting many industries in reducing labor costs while increasing production rates, and healthcare is one industry tapping into its enormous potential. Although initial prices may be high, 3D printing technology is developing rapidly every day, reducing the cost of manufacturing prototypes, prosthetics, tissue and skin, and even pharmaceuticals.
LASIK- Advancements in laser technology have made it easy for physicians, and affordable for patients, to eliminate their reliance on eyeglasses and contacts and elect for a more permanent vision-correction process. Vision correction is yet another procedure that technology is helping to cut costs on — a significant pain point in the healthcare industry.

Virtual Health– For the past 10 to 15 years, virtual health has been heralded as the next disrupter in the delivery of care, but there has been minimal uptick in adoption. The COVID-19 pandemic is pushing against structural barriers that had previously slowed health system investment in integrated virtual health applications. Mckinsey article "Virtual health: A look at the next frontier of care delivery" looks at the finer details of virtual health.
Opportunity exists for health systems to enhance their value proposition for consumers in a way that creates new interactions or loyalty. Additionally, providers may build new capabilities that could lead to success in risk-based reimbursement models. On the acute care side, an opportunity may also exist to promote efficiency through models like tele-ICU and change-capacity use through "hospital at home" (HaH) models. How health systems think about these value drivers and strategies will likely depend on their market position, provider/specialty capacity, and growth objectives.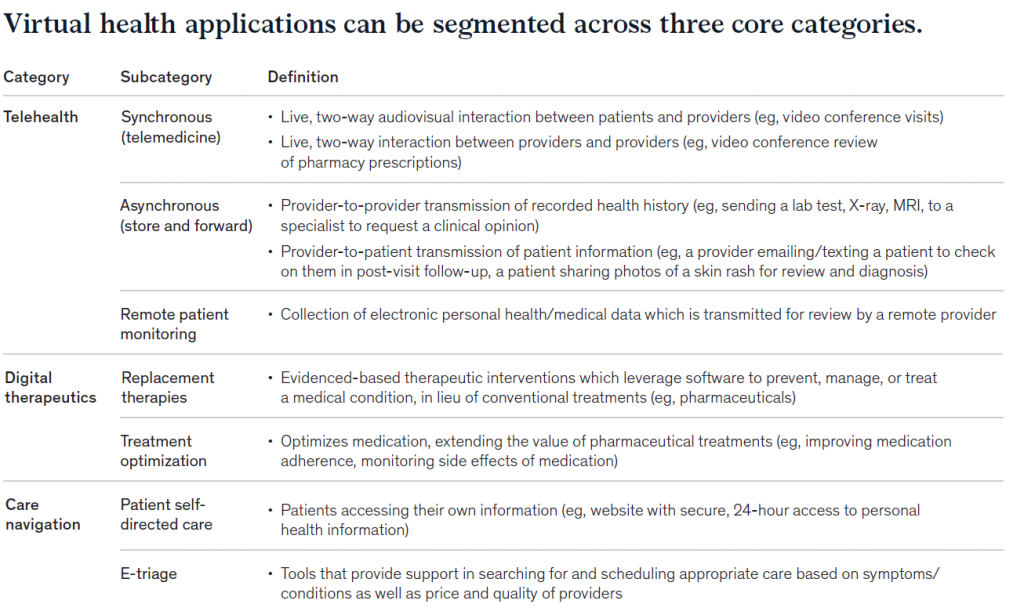 The Road Ahead
Several publications and analysis reveals that the way 5G will primarily contribute to industrial advances
is by enabling faster and effective inspections through predictive intelligence, improving workplace
and worker safety, and enhancing operational effectiveness. 5G could transform certain industries, bearing in mind that, while some have more clearly defined use cases that could generate greater impact, 5G deployment will take place in phases. Therefore, certain use cases will only be enabled as the networks are expanded and the technology components mature, hence the importance of fostering innovation and collaboration to accelerate 5G deployment
and its benefits. Additionally, 5G has the potential to provide quality internet access to geographical areas that are currently underserved by the telecommunications network. This could unlock significant social impact through use cases related to tele-education and telemedicine.
Healthcare sector is definitely an area which can witness unprecedented changes with right adoption of 5G technologies. However to ensure that 5G deployment will accelerate and its components and interdependencies are understood, strong collaboration between stakeholders is needed. Many of the current use cases are technically supported by the functional drivers of 5G and activated through multistakeholder cooperation and collaboration. Regulators, industry associations, network operators, service/technology providers and public-private partnership organizations must engage in continuous dialogue to address the challenges facing widespread 5G adoption worldwide and to maximize the opportunities it will bring across sectors. We earnestly hope the future generations will be able to reap the benefits of 5G in healthcare and other sectors with the right actions of today.
---
References