AIM OF NCC
To Create a Human Resource of Organized, Trained and Motivated Youth, To Provide Leadership in all Walks of life and be Always Available for the Service of the Nation.
To Provide a Suitable Environment to Motivate the Youth to Take Up a Career in the Armed Forces.
To Develop Character, Comradeship, Discipline, Leadership, Secular Outlook, Spirit of Adventure, and Ideals of Selfless Service amongst the Youth of the Country.
NCC FLAG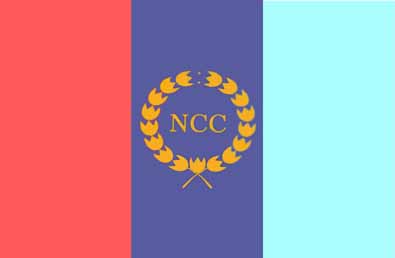 In 1954 the existing tricolour flag was introduced. The three colours in the flag depict the three services of the Corps, red for the Army, deep blue for the Navy and light blue for the Air Force. The letters NCC and the NCC crest in gold in the middle of the flag encircled by a wreath of lotus, give the flag a colourful look and a distinct identity.
क्यों खास है NCC?
• एनसीसी तीन तरह के सर्टिफिकेट देता है, जिसमें ए, बी और सी ग्रेड शामिल है और इसमें सर्वोच्च ग्रेड सी होती हैl
•ए सर्टिफिकेट से उम्मीदवार सीएसएम (कंपनी सार्जेंट मेजर) तक का पद हासिल कर सकते हैंl
•बी सर्टिफिकेट से उम्मीदवार जेयूओ तक का पद हासिल कर सकते हैंl
•सी सर्टिफिकेट से सीएसयूओ (कंपनी सीनियर अंडर ऑफिसर) का पद पा सकते हैंl
•सी सर्टिफिकेट हासिल करने के बाद उम्मीदवारों को सोल्डर जीडी कैटेगरी और सोल्टर टेक में 10 फीसदी अंक का फायदा होता है. एयरफोर्स में 5 अंक, बीएसएफ में 10 अंक का फायदा मिलता हैl
Activities conducted under NCC