We at Vision Institute of Science & Management (VISM), are working with a mission to develop our students to allow them to prosper in their professional and personal life. Management & Science Education Redefined is a commitment of VISM to ensure our mission is achieved by special thrust on both technology, as well as developing managerial skills including creativity, innovation, and the art of learning.
In today's rapidly changing global economy, equipping individuals with the skills needed for the present and future job market is a pressing challenge. Industry 4.0, characterized by automation and artificial intelligence, is reshaping skill requirements. Pursuing courses like BBA, BCA, or B.Sc. (Ag) at Vision Institute offers long-term advantages, refining skills across domains and enhancing technological knowledge. The curriculum emphasizes critical thinking, growth mindset, and practical proficiency, enabling students to excel in careers and personal lives. Vision Institute also offers the B.Sc. (Ag) program, recognizing the significance of agriculture in sustainable development and food security. By integrating theory with hands-on experiences, graduates contribute to the dynamic agricultural sector. Join Vision Institute for intellectual growth, professional success, and personal fulfillment.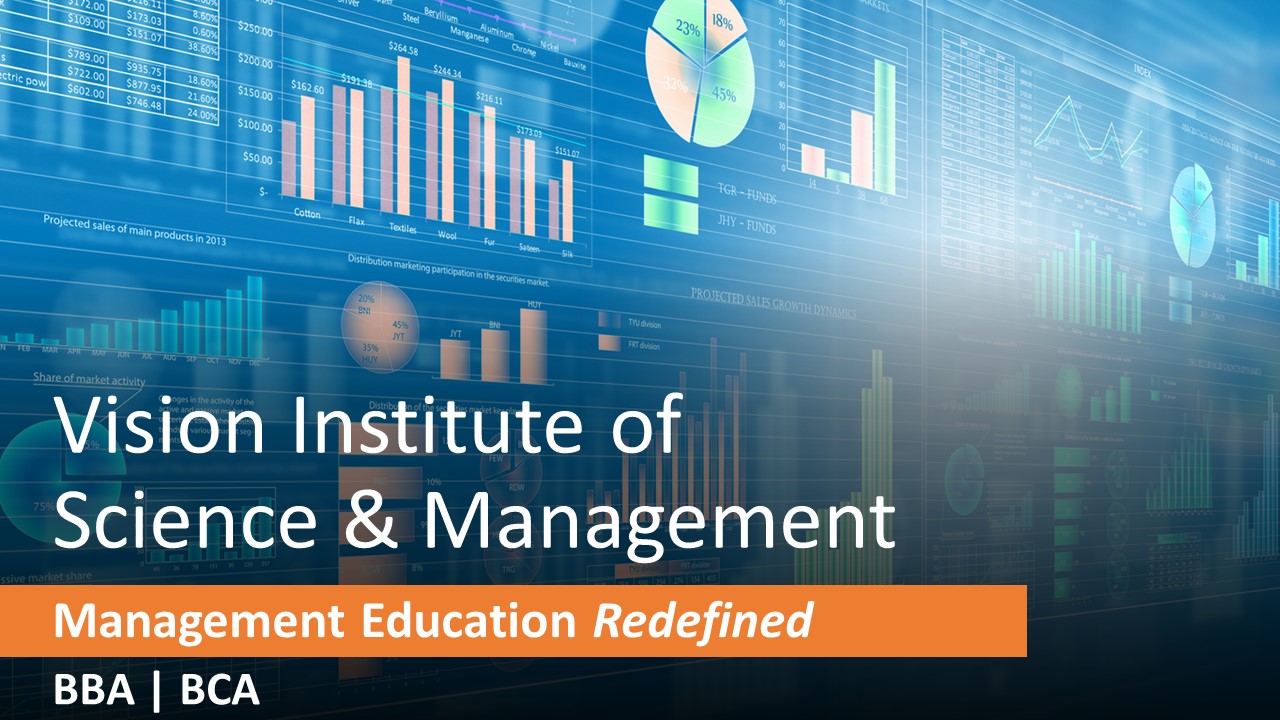 Need for Change in Education as per the Changing World
The profound effects of technological progress on the global economy, combined with globalization and demographic changes, have given rise to a critical societal challenge: how to equip individuals with the skills necessary to actively participate in today's and tomorrow's economy. With Industry 4.0 and the rapid growth of automation, accompanied by the widespread use of artificial intelligence, the demand for skills in future job roles will significantly evolve. As future managers, it is essential to prepare for these changes.
In this rapidly transforming world, the "human factor" of an individual – the ability to think critically and creatively – becomes a powerful distinguishing factor. Pursuing a course like BBA or BCA offers long-term benefits by allowing you to enhance your skills in various domains while expanding your technological expertise. At Vision Institute, we understand the importance of nurturing the "human factor" alongside technical proficiency. That's why we offer a comprehensive B.Sc. (Ag) program that blends scientific knowledge with practical skills.
In an era marked by technological advancements and changing global dynamics, the field of agriculture plays a pivotal role in ensuring sustainable development and food security. Pursuing B.Sc. (Ag) at Vision Institute will provide you with a unique opportunity to delve into this vital industry. Our program emphasizes critical thinking, innovation, and a deep understanding of sustainable farming practices, equipping you with the tools to make a meaningful impact in the agricultural sector. You will have the chance to blend scientific principles with hands-on experiences, gaining a comprehensive understanding of the complexities and challenges faced in modern agriculture. By joining our B.Sc. (Ag) program, you will be well-prepared to tackle the evolving agricultural landscape and contribute to sustainable growth.
At Vision Institute, we believe in holistic development and preparing our students for the demands of the future. Whether you choose BBA, BCA, or B.Sc. (Ag), you can expect a stimulating learning environment, dedicated faculty, and a curriculum that combines theoretical knowledge with practical applications. Our courses emphasize critical thinking, problem-solving, and the development of a growth mindset, enabling you to thrive in your career and life. Join us at Vision Institute and embark on a journey of intellectual growth, professional success, and personal fulfillment.
Few Case Studies with related Technologies which we are promoting at VISM
In the past years, the COVID-19 crisis has made clear the business imperative of making technology-driven changes, which are more ubiquitous now than ever. Various reports and research of top global thinktanks on technology and the business suggests that organizations worldwide are reporting progress on their integration of technology and business—and that these efforts were creating tangible business value across four measures, including new revenue streams and lower costs. The results also suggest that, on average, some transformation activities result in more impact than others (namely, those related to talent and capabilities). And according to the data, the companies with top-performing IT organizations have differentiated themselves from others in their efforts to create value, adopt new technologies, and bring technology and business closer together.
Annual IT Strategy Survey of Mckinsey has pointed out Seven lessons on how technology transformations can deliver value. These are extremely relevant for any management student
Technology investments are creating significant business value
People-focused plays result in the most value
Talent remains the holy grail of technology transformations—valuable to pursue but difficult to execute
The talent challenge has clear implications for sourcing
No silver bullets—the top performers execute more transformation plays than others
The broader use of advanced technologies supports greater value creation
Bridging the business-technology chasm is critical to outperformance
Check full survey report
References